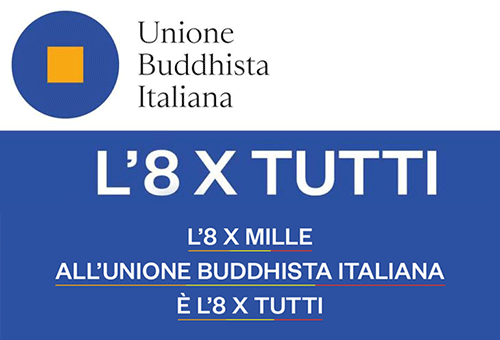 Fondazione Lama Gangchen Help in Action's projects with funding from the 8×1000 Italian Buddhist Union
FOR ALL THOSE WHO HAVE ALLOCATED THE 8X1000 ON THEIR INCOME TAX RETURN TO THE ITALIAN BUDDHIST UNION:
From 2018, the proceeds of the 8×1000 funds allocated to the Italian Buddhist Union have contributed to financing many humanitarian projects both in Italy and the rest of the world. These projects must be presented by a non-profit organisation, according to the guidelines of the annual Call for Proposals, and among the many received the Italian Buddhist Union selects those most deserving for funding.
Fondazione Lama Gangchen Help in Action Onlus is benefiting from this invaluable support for four projects accepted for funding, from 2019 to 2022.
A big thank you therefore goes to the 8×1000 Italian Buddhist Union and to all the friends who allocated them the 8×1000 in their income tax return: your help allows us to realise important projects, which we would certainly not have been able to implement alone!
The 8×1000 Italian Buddhist Union contributes to projects for a maximum quota of 70% of the total costs: the help of our friends and supporters is therefore essential to allow us to cover the remaining 30%. THANK YOU!
---
BELOW YOU CAN FIND NEWS, PHOTOS AND VIDEOS OF THE PROJECTS UNDERWAY WITH THE CONTRIBUTION OF THE 8X1000 ITALIAN BUDDHIST UNION
Buddhist Education Project for children in need of the Kathmandu monasteries