Tibet 2013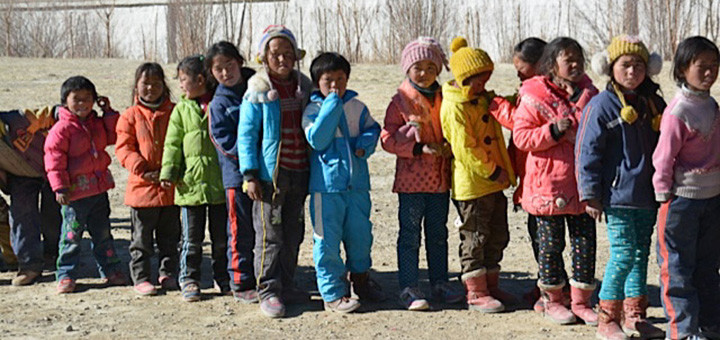 Long Distance Adoptions
The Long Distance Adoption project of the Association in aid of children and their families living in the villages of Central Tibet started 15 years ago. Today, our help reaches about twenty villages with an overall total of approximately 2,000 children.
The villages, located in the area of Shigatse, are scattered on the Tibetan plateau at about 4,000 meters above sea level. The income of these families is based for the most part on subsistence farming, but the harvests from this mountainous and rocky land is often insufficient to meet even the basic needs of the family; only a few families are fortunate enough to have some goats or a yak. In recent years, some parents have found occasional employment in the maintenance of roads, some have even gone to seek work in the new factories in eastern Tibet, leaving their families behind in the villages. Without this work, these families have absolutely no money with which to buy essential goods such as clothes, shoes, school supplies, medicines, or to make repairs to their simple homes which are always ​​necessary due to the extreme climate.
This year, the distribution of aid to the children and their families was held between November and December in Nye Elementary School. Nye is the largest village in the district. The children received shoes, caps, winter jackets, thick tracksuits, school uniforms, backpacks; they also received a supply of school notebooks, ink, pens, pencils and so on. As in previous years the families received money and sacks of rice and flour to guarantee them a means of support over the harsh winter months.
All the children of the villages, sponsored or still on our waiting list, were photographed. In the photo is Dolma, a girl from Nye Village, with a gift that her sponsors sent: it is a collection of her photographs since 2002, the year they started the sponsorship, to date. A wonderful gift for someone who has never had a picture of herself to put in her home!
Schools
In the region helped by the Association, there are only three elementary schools: Nye School (from classes 1 to 6) and Singma and Nepu schools (from classes 1 to 3). To attend secondary school, the children must move away from home to live and study in Sakya School where they can complete from classes 7 to 12.
Since the long distance adoption project started, the number of children attending school has increased every year until now almost all children – thanks to the help they receive – manage to attend school. Many children are now able to complete their school education, and some have even started university. After graduation from school, for some it is possible to find work in the nearby town of Shigatse, in hotels, offices, schools, handicraft workshops, shops and so on. Others choose to remain in their village to help the family with the work of farming, but even in this work they have a lot more knowledge and skills.