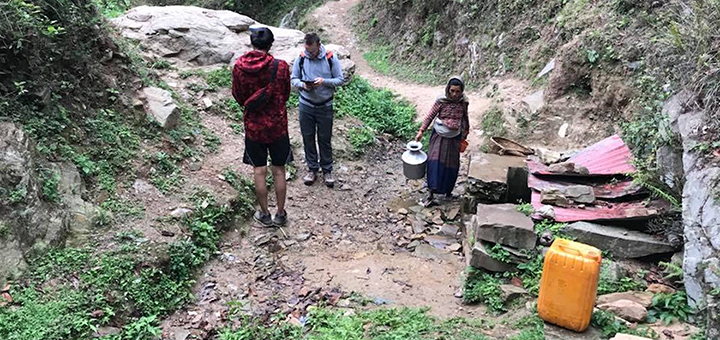 WATER PROJECT 2019-20
The purpose of the project is the Sustainable Development Goal (SDG) n. 6 "Ensuring water and sanitary conditions for everyone in view of a sustainable world" through the implementation of a collection, accumulation and revitalisation system of water resources from a source to the village of Chapakhori in the Bagmati region, south-east of Kathmandu. Currently the population of the village lives without immediate availability of water resources necessary for human consumption (drinking water, supply for schools, etc.), sanitary, hygiene and animal needs. The supply of water in the area suffered a further impoverishment due to the earthquake of 2015. Currently 400 families live in the village (about 2000 people); the houses have no direct water connections and the supply points in the village are dry. Every day, sometimes several times a day, people have to walk a long way downstream, along a steep valley incision, to be able to reach water.
After site inspections in 2018 by Italian engineer Matteo Greggio, geologist Claudio Galli and EMES, a local drilling company, the first phase of the water project was finally started at the end of April 2019. This was also made possible thanks to the support of the 8×1000 programme of UBI (the Italian Buddhist Union) who partly funded the project and other donors.
After manually transporting the necessary drilling equipment to the site (not accessible by road), the engineers were ready to begin drilling. Under the supervision of our representatives 5 sub-horizontal boreholes were drilled into the sloping foothills of Timaldada village and perforated pipes were installed to collect water and channel it out. A total of 89 metres were drilled and water was found from the 4th borehole. To make sure not a drop of this precious water was lost, two 500 litre tanks were installed to collect the water.
The water, collected from the borehole, was analysed by a laboratory in Kathmandu – Nepal Environmental & Scientific Services ℗ Ltd – with the outcome "All observed values complied the prescribed NDWQS for drinking water". The NDWQS is the National Drinking Water Quality Standard.
The second phase of the project – to install a pump system to carry the water to main points in the village will be carried out in 2020.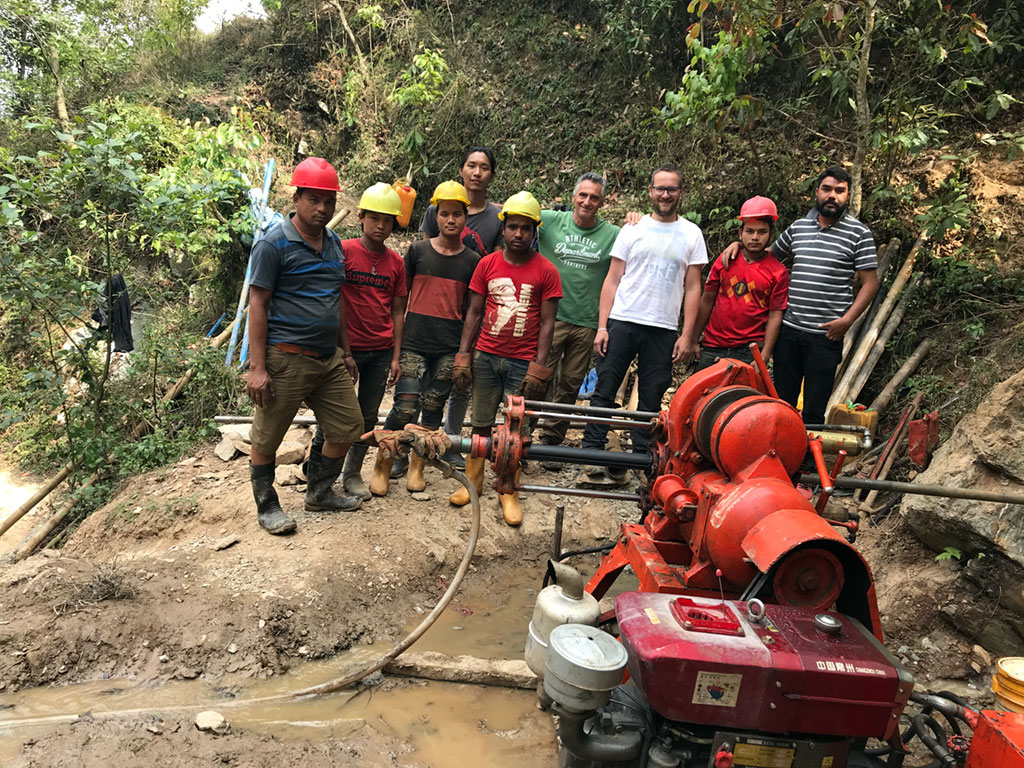 ---
---
CHAPAKHORI VILLAGE WATER PROJECT