Nepal 2014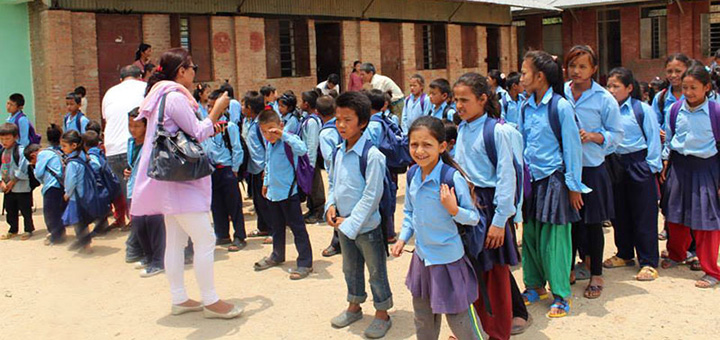 The volunteers of Help in Action were as usual present in Nepal during the months of March and April this year. This is the busiest time of year – the children finish their school year in March and all the enrollments for the coming school year are made in April. During this time all the students are photographed and the report cards and letters to be sent to their sponsors are collected. Although the majority of children study in schools located in the immediate area of the local office – where it is easy to visit and meet their teachers – there are still around 60 students attending various other schools scattered around the Kathmandu Valley. These students are called along with their parents to meet with us in the office. This year, as well as updating the information on each family, we also asked the children what their favorite and least favorite subjects were in school. Whilst the boys offered an array of answers for their preferred subject, the majority of girls answered that their preferred subjects were science and maths! Most of the children – regardless of gender – gave the same answer to the question of least favorite subject: Nepalese!
These photos show just a few of the children sponsored by Help in Action, there is also a collection of artwork that children have sent to their sponsors. In the other photos it is possible to see some pictures taken in and around the office: children bringing letters for their sponsors or registering for the new school year.
In March this year 86 of the students sponsored through the Association sat the exam for their School Leaving Certificate (SLC). In Nepal the SLC exam is commonly known as the "iron gateway" as it opens to the young adults a better future. However, as increasingly more children are fortunately gaining access to education and attaining this level of education – employers are of course looking for better qualified employees. Thanks to the generosity of sponsors – who have accepted to continue contributing to the further education of their children – 37 of these students will be joining college this year. Although many of these young adults are waiting for their results (published in June) before deciding on the subjects they want to study – the most popular courses seem to be: commerce, hotel management, humanities and computer design. We are currently helping to support 52 students who are already in further education both at college and university level.
In this photo we can see the letters sent by class 10 students to their sponsors.
We are all particularly proud of Dina Shoulkal, who after 4 years of study, became a qualified nurse early this year. She is the first of our family to complete a nursing course and along with her parents we all have a great sense of satisfaction at her achievement. Another of our students is currently in the second year of a nursing qualification and many of our younger students dream of following in their footsteps! A few other students in further education have chosen to take social work courses: all of them motivated by the wish to give something back to their communities.
College courses usually run for only four hours a day – starting very early morning – which means that some students are also able to find jobs and help their families as well as study. It is amazing to see how committed and determined these students are to complete their studies.
We are presently sponsoring 240 children in Gangchen Samling School. The school is well known in the local area for offering education to some of the poorest and most needy children, but without the help from Association many of these children – who most need the help – would be unable to attend school. Most of the parents are illiterate and work as labourers on building sites or in local factories, others are beggars or farmers living on the harvest they manage to collect. The school also provides education for a number of children living in local orphanages. Thanks to the new classrooms that we built for the start of the school session last year – the school is now able to offer facilities for children to complete their education in classes 9 and 10. This year for the first time, we have 25 students studying in class 10!
These photos were taken on the first day of the new school session and during the day when the report cards were given to the children.
We were also happy to receive – during an annual open day attended by local dignitaries and TV personalities – a letter of appreciation from Gyanmala English School. The letter thanks us for our constant and invaluable support in ensuring the education of children in need.
This year the local office of Help in Action in Nepal received a request to collect the used books of our students. This request was made by school teachers from the Chauki Bhangyang district – located about 30km outside of Kathmandu. However, after visiting the schools it was clear that the children attending school in this remote area needed more than just old text books. The school was also in desperate need of basic supplies such as exercise books, paper, pencils and other stationary items. Thanks to generous donations to the emergency fund we were able to quickly organize the distribution of supplies to these children. Needless to say, the children were very happy to receive these gifts!
Once again this year, the Association has continued giving essential support to children with disabilities. Families with disabled children face countless problems as, more often than not, they are unable to pay for necessary medical care or services. We are presently supporting several children with special needs to attend school. Maina Kathiwaldi, for example, is a young girl with cerebral palsy. It is now her second year in school and she is loving every minute of it. Her mother was so excited to tell us how well she is doing – and how much her speech has improved since she has been mixing with other children!
Another six families with more severely disabled children are presently receiving financial aid. This money is used mainly so that the mothers can stay at home and care for these vulnerable children. Shanti, whose sister Dolma is severely disabled and needs constant care, has just finished a two year college course in commerce – thanks to the help of her sponsor – and is now looking for work so that she can help to support her family. The life of Shanti was completely changed when her family started to receive financial help: instead of acting as a caretaker for her younger sister and brother whilst her mother worked long hours as a cleaner she was finally able to go to school and gain a qualification.
Financial aid also reaches a number of elderly people. These old people, without families, also find themselves in very difficult situations. Without any kind of social care in Nepal, they are often left without any income whatsoever to pay for shelter, food or medicine.
Volunteers of the Association visited all the children with disabilities and elderly in their own homes.
The general situation in Nepal is, as in most other places, increasingly difficult. Prices are rising at an alarming rate and well-paid work is difficult to find. There is a constant shortage of water and electricity is available for only a few hours each day. Many families struggle to provide the basic necessities and in order to simply survive are forced to sacrifice the education and healthcare of their children. The work of the Association and in particular your help is invaluable in giving these children a chance…
On behalf of the hundreds of children and their families who are receiving help in Nepal we would like to thank you for your generosity and support.