Nepal 2007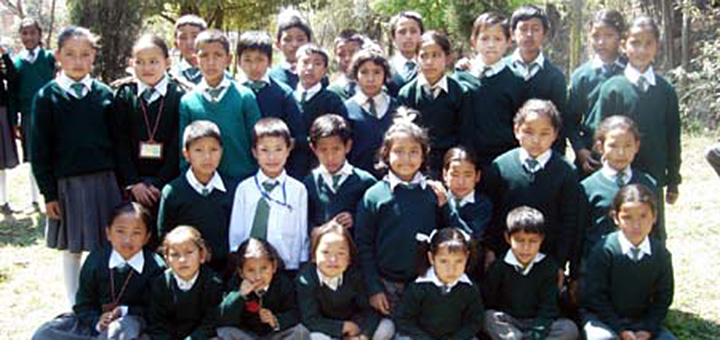 Long Distance Adoptions
In Nepal's present context, the long-distance adoptions project is increasingly important as fewer parents can afford to educate their children. For the Association it is greatly satisfying to see that, even against the odds, some of the children first sponsored are now completing their school cycle and have even begun further education in local colleges and training facilities.
We are presently helping around 900 children to study in Nepal.
School Cycle
Ideally, children of 3 to 4 years are admitted into nursery class, followed by the lower and upper kindergarten (LKG and UKG) classes. After three pre-school years children enter class 1 and study up to class 8, after which they must sit a Government Board Exam. A pass in this exam is proof of a basic level of education but most children opt to study for a further 2 years in order to obtain the School Leaving Certificate (SLC). With this certificate there is a better chance of finding work: teaching until class 3, office work, hotel reception jobs, government office positions…
After attaining their SLC some students carry on their education in a college for 2 years (courses are commonly known as 10+2). The student is required at this point to decide the direction of their study: commerce, information technology, arts, science, tourism, nursing and so on. Anyone passing the 10+2 course has the choice of continuing with a university education.
A child admitted in nursery at age 4 should sit the SLC exam at 16 or 17 years of age. However, many children are admitted into school late and are behind this norm, others have failed end of year exams and have to repeat the year (this has become more common due to the number of strikes, school closures and general unrest).
Gangchen Samling School
For the school year 2006-7, 436 students were enrolled in the school. This number has increased for the new school year, as parents are attracted to the high level of teaching, the school's facilities and extra-curriculum activities. From the academic year 2007-8 the school will also include class 9.
The new wing to the school building is finished, creating a protected environment dedicated to the youngest students of nursery and kindergarten classes. A playgroup has also been created in this area, giving working parents somewhere safe and fun to leave their youngest children.
For the older children the library is now open – offering free access to reading and reference materials. The computer room has received a donation of five new computers (a total of ten computers in all). Work to furnish and equip a science lab is also underway.
Many children also have the opportunity to participate in after school activities, and the school won 3rd position in the district Tae Kwando competition. Classes in arts and handicrafts have also been organised for the elder children, where they can use their talents to create paper flowers, soft toys and so on.
Children from the school were also involved in organising a blood donation drive to help develop their sense of community and deeper awareness towards those less fortunate.
Regular health and eye screening have been held in the school ensuring that any problems are detected as early as possible.
Representatives of the Italian organisation CLOWNS ONE ITALIA were also present in Nepal in March to enrol ten girls from the under-privileged Dalit Caste into Gangchen Samling School.
This year the school has received donations from the Association to buy new equipment, to cover the expenses of the homework club and to increase the numbers of qualified teaching staff. Approximately 200 children attending the school are sponsored through the Association.
Clown
click to view gallery
Exam Results
click to view gallery
General
click to view gallery
Handicraft
click to view gallery
Himalayan Healing Centre Clinic
As in previous years the clinic is continuing with its aim of providing healthcare to the poorest and most needy of the surrounding area. In 2006, the clinic provided services to just over 11,000 people. The most popular facilities have been general medicine and family planning, but the number of young patients needing the dental chair is also on the increase.
The Clinic's newly appointed full time doctor Srijana Shrestha is dedicated to combining traditional ayurveda with allopathic medicine. She explains: "I give ayurvedic medicine to patients who have chronic ailments such as hepatitis, but it is also very useful for strengthening the immune system and purifying the blood. There is also very good anti viral medicine and because there are no side effects we can also use it with pregnant women and to treat ailments during the pregnancy. In the clinic we are seeing an increase in patients with high blood pressure and diabetes, ayurvedic medicine and diet restrictions are helping these patients a lot. Most patients like ayurveda because it treats the root cause of the sickness, unlike allopathic medicine that only treats the symptoms". Dr Shrestha went on to give us the following advice for the parents of sponsored children: "The most important thing is to boil water before drinking. Parents should also keep a better level of personal hygiene and wash clothes regularly. If they did this a lot of skin and intestinal problems would disappear. They should also try to give the children a more nutritious diet, there is a new trend to buy packaged biscuits, sweets and noodles for the children to take to school instead of giving them lentils and vegetables which would be much healthier".
Clinic staff have organised health camps in surrounding areas. These health camps – offering free check-ups and medicines whenever possible – are particularly useful for elderly and disabled people who are unable to reach medical facilities.
This year the Clinic has received donations from the Association to buy new equipment and medical supplies as well as to cover running and staffing expenses.
General
click to view gallery
Emergency Fund
Cancer treatment, scans, cataract operation, x-rays, blood tests, medicine, tooth extraction, food, rent and new shoes are just some of the reasons why 146 people benefited with a one-off gift from the Emergency Fund in 2006. These 146 people (some old, others disabled, but all living in extreme poverty) have all had their personal circumstances changed positively thanks to the Emergency Fund that is always in great demand.
As in previous years the Fund has also covered school fees for a number of children who are without sponsors.
Gangchen Drupkhang
The building work is not yet totally complete but activities in Gangchen Drupkhang are already well underway. Craftsmen are already at work producing tangkhas, incense, Tibetan herbal medicines and carved furniture. The centre that hopes to preserve traditional Himalayan handicrafts is already giving work to 35 people and preparations are underway to create and promote courses to train youngsters in traditional craft making skills that will allow them to find jobs or create for themselves an income. In the future it is hoped that this building will also be used as a base for courses in traditional Himalayan medicine and healing techniques.